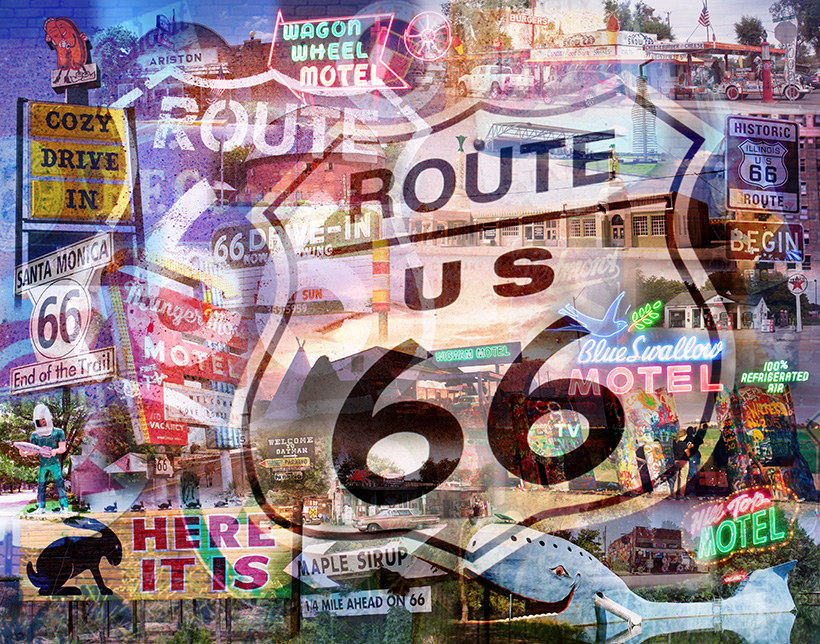 Route 66. The place to get your kicks.
Illinois, Missouri, Kansas, Oklahoma, Texas, New Mexico, Arizona, California.
I've always heard about it but never seriously considered it to be a trip I would get to make any time soon as to truly enjoy it I've heard you should spend at least 2 or 3 weeks. However when I was thinking about what my now husband and I would do for our honeymoon, there was only one answer. While we spent just a little over one week traveling from Chicago to Los Angeles, it was an experience that we'll never forget. 
We agreed that you really do need to take more time than we did to travel the entire stretch, however now that we've done it and we know what we want to go back to see we can do it in pieces rather than the whole 2400 mile trip. There were so many highlights that it was difficult to select what to put in the collage. In the future I'd like to make a specific Route 66 collage for each state along the way.



Photos in the Collage
- Cozy Dog Drive In
- Ariston Cafe
- Wagon Wheel Motel
- Snow Cap Drive In
- POPS
- Arcadia Round Barn
- Begin Route Sign in Chicago
- End Route Sign at Santa Monica Pier
- Munger Moss Motel
- 66 Drive In Theater
- U Drop Inn and Tower Conoco Station
- Ambler's Texaco Station
- Blue Swallow Motel
- Wigwam Motel
- Burros in Oatman, AZ
- Astronaut Muffler Man (former Launching Pad Drive In)
- Here It Is sign at Jackrabbit Trading Post
- Hackberry General Store
- Funks Grove Maple Sirup sign
- Catoosa Blue Whale
- Cadillac Ranch
- Hill Top Motel
- Sandhills Curiosity Shop